Variant price modifier:
Base price with tax:
Price with discount:
$105.95
Salesprice with discount:
Sales price without tax:
$105.95
Discount:
Tax amount:
SKU: SS-500
Back to: Motorcycle Covers
SS-500 Slingshot Half Cover
LIFETIME WARRANTY

100% waterproof UltraMax polyester with heat taped seams

Maximum UV protection against sun's harmful rays

Quickly secures using an integrated buckle system and rubber coated hooks

Fits with OEM windshields

Packed in compact carry bag

Not trailerable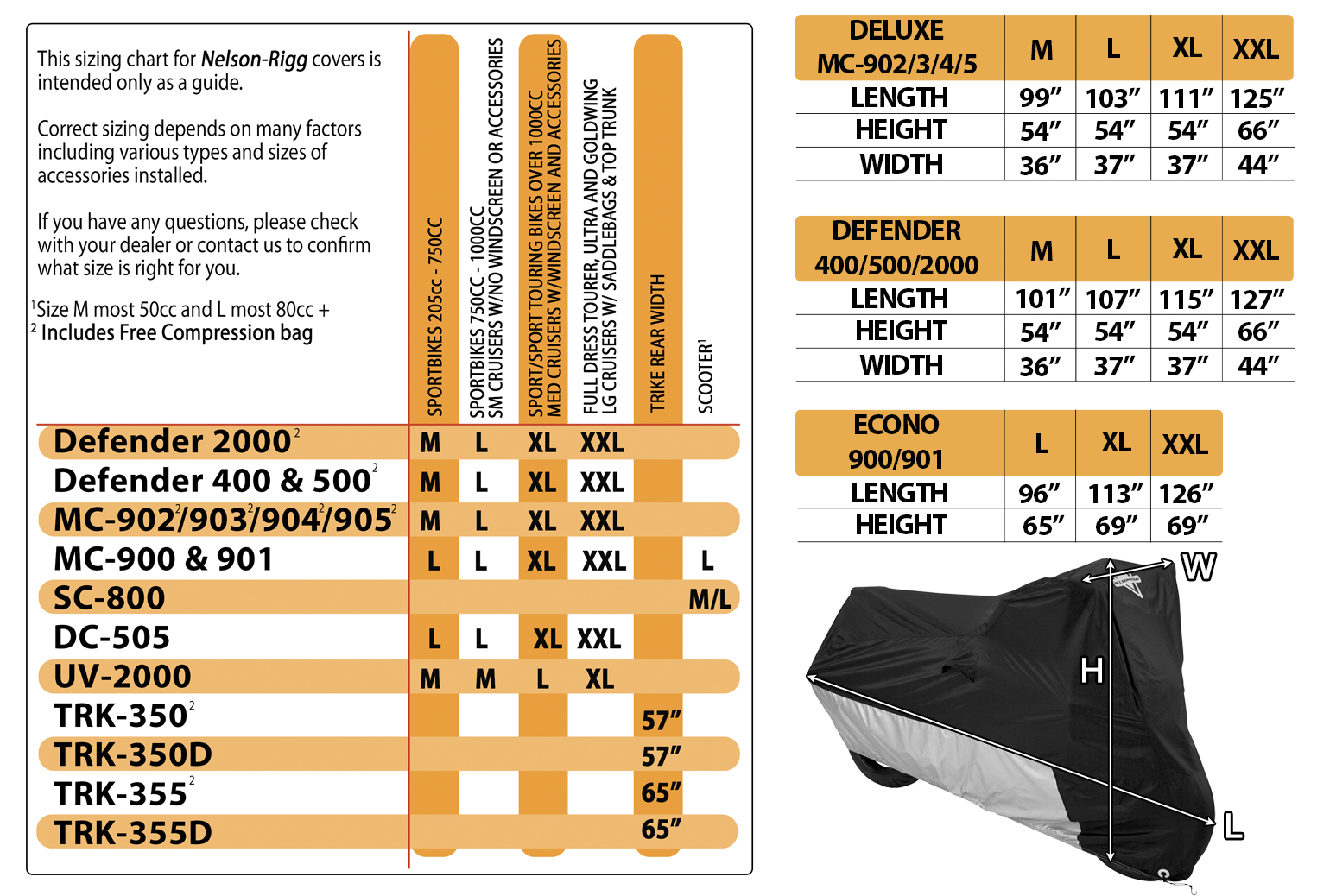 Installing your cover
Installing your new Nelson Rigg cover is easy! To help, there is a "Back" tag that is sewn on the inside of the cover located at the rear tire. Once you've identified the back of the cover, you may start to secure the cover around the front tire first, then pull the cover over the top of the handlebars and secure around the rear tire last. *Note: the elastic around the bottom of the cover will hold in place under normal weather conditions. Be cautious when installing the cover on the vehicle which has been just driven to ensure the material does not come into contact with hot parts or pipes.
Removing the cover
Lift both ends of the cover from under front and rear tires and fenders.

Pull up the front part of cover over handle bars and mirrors then pull up the rear of the cover over the seat.

Make sure the cover is dry and clean before packing inside of the storage bag.
Cleaning
The following information is only a recommendation. All cleaning products and methods should be tested on an inconspicuous spot before using it on the original stain/soiling.
For a light hand wash, remove any loose dirt and then dilute a mild liquid detergent in cold to lukewarm water. Lightly clean your cover with a sponge or soft brush. It is ok to submerge the cover in a bucket or container of water. Finally, rinse thoroughly until all soap residue is removed. Allow your cover to air dry. We recommend to NEVER place a cover in a washing machine or an automatic dryer.
For a deeper clean, like removing stubborn stains or mildew:
Mix a cup of chlorine bleach with half a cup of mild detergent with a gallon of water.

Clean the stain with a soft bristle brush and allow the mixture to soak into the fabric for several minutes, then rinse thoroughly until all cleaning agent is removed and the water runs clean.

You can repeat the cleaning process if the stain is not completely removed.

Allow your cover to air dry.
Warranty
The warranty on a Nelson Rigg Motorcycle Covers is valid from the original date of purchase.
(Warranty period is indicated in the Description box under each cover model)

Nelson Rigg USA guarantees your product to be free from any manufacturing defects. We warrant to the purchaser that correction to any manufacturing defects in material or workmanship by either repairing or replacing the product free of charge within the valid warranty period. The warranty does not cover normal wear and tear or stains from dirt or pollutants. The cover must be properly utilized and maintained from the time of purchase.


Vehicle to be dry before covering.

Do not put cover on with hot pipes or parts.

We recommend waiting 10 minutes for pipes/parts to cool down.

Do not use cover while towing vehicle.
We are not liable for repainted surfaces or lacquer paint. Repainted surfaces should not be immediately covered. It is best to check with your paint body shop for the recommended "cure" time. Covering before the cure time has been reached may cause damage which is not due to the cover but due to the new paint.
To initiate a claim for a product still covered under the manufacturer's warranty, please carefully review our warranty policy on our Warranty Information page and then complete the claim form. After your claim is submitted, a representative from our warranty department will review your request and respond with instructions for returning the defective cover to us for repair or replacement, pending our evaluation. Nelson Rigg USA will cover the cost of shipping the repaired or replacement cover back to you.
Shipping
Ground shipping is free for all orders over $50 shipped within the 48 continental United States. Due to the higher cost of shipping to Hawaii and Alaska, an additional shipping and handling charge is applied to these areas. The shipping charge varies depending on where the package is being shipped. Overnight, 2-Day, and 3-Day shipping options are not eligible for free shipping but is available at an extra charge. For more information on shipping to Hawaii or Alaska OR express shipping options, please email info@nelsonrigg.com with the product(s) and the shipping address. Our shipping department will send an emailed response with the best shipping rate available.
Orders are processed Monday through Friday and are generally processed within 24 hours if received before 2pm PCT. Orders placed on weekends or after 2pm PCT will be processed the next business day. Customers will receive an email from USPS or UPS with a tracking number once your order has been processed to ship. If you do not receive any emails confirming your order or shipping of your order, please email info@nelsonrigg.com with your order number and one of our friendly representatives will be happy to assist.
International shipping
Nelson Rigg USA currently does not offer International shipping. We also cannot process orders if your billing address is outside of the US and want to ship to a US address. Orders processed through our website must have a US billing address.
There are yet no reviews for this product.